Modernist "L" merged with natural landscape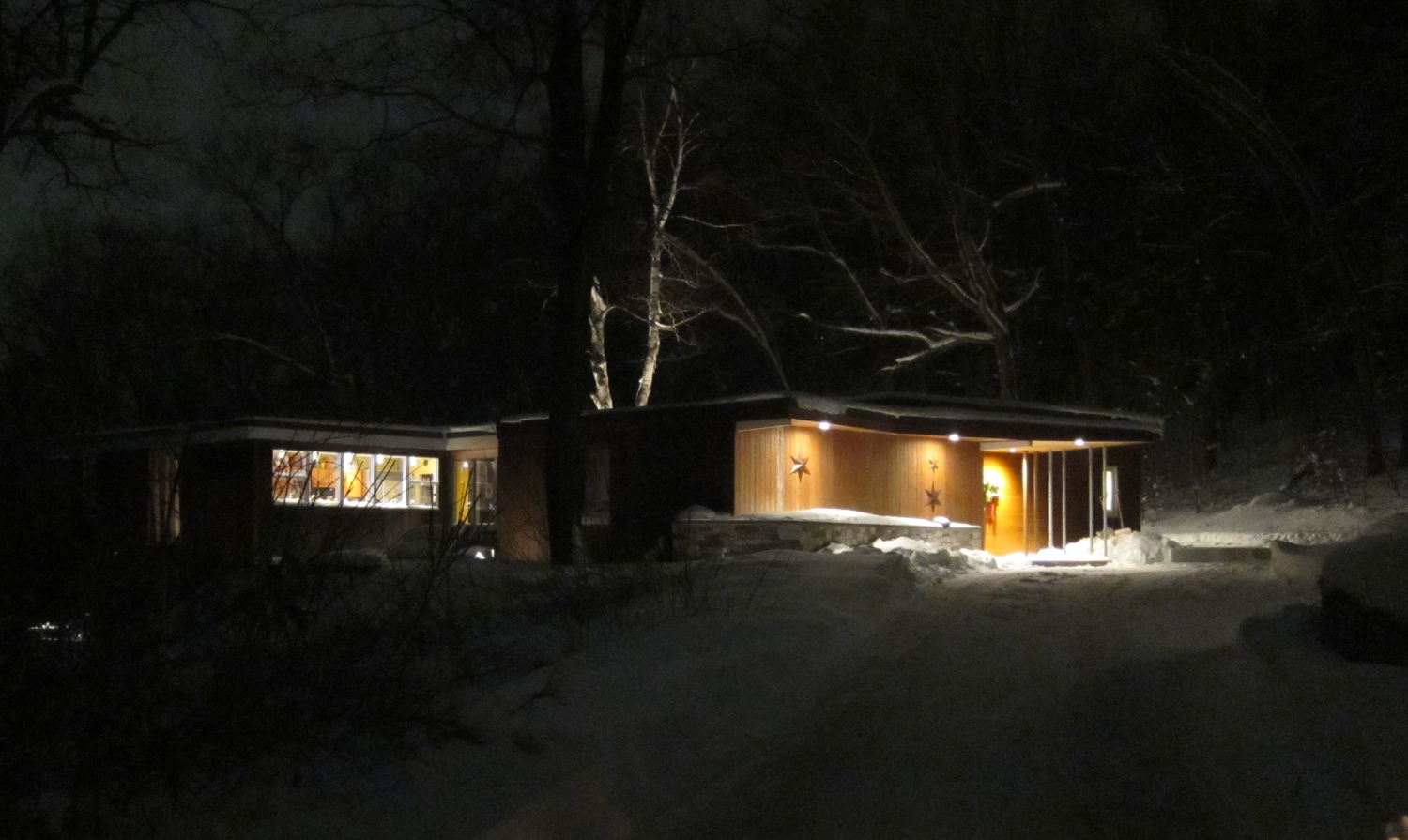 Fast Facts
3 miles and 16 years distant from iconic Gropius House
Original roof held 3 inches of rainwater for evaporative cooling
500 gallons of rainwater captured in tank for irrigation
Roof overhangs block high summer sun; allow winter sun to enter

Location
Lincoln, MA
A Mid-century Modern home was renovated and expanded to accommodate a family of five. Originally designed for a mature couple, the modest home was transformed to provide more living space, while reinforcing Modernist principles. In particular, the interweaving of interior and exterior spaces was enhanced through the creation of both western and eastern facing courtyards.
The compact L-shaped massing of the original 1956 structure was elaborated through careful insertions and additions. A new glazed gallery connects a re-purposed garage and a new master suite pavilion to the old main living spaces. This gallery in conjunction with the connected masses create two 3-sided courtyards for outdoor living. A dining room, non-existent in the original home, was inserted on the back side of the living room chimney which was modified to create a dining room fireplace. Both living room and dining rooms take advantage of sweeping views of woods and meadows to the south.
The additions and insertions both reinforce and play off the original rectilinear geometries of the house. A new detached garage with a butterfly roof is partially submerged into a hillside at an angle to the original volumes of the main house. The subtle angles of the new garage roof planes are echoed in the inflection of a new entrance canopy of the main house. The master suite pavilion and dining room are also set at slight angles to the adjacent volumes, creating dynamic spatial relationships. New and old construction are further distinguished in materials and details. While the overall cladding is reddish natural wood, some extents of the new red cedar boards are set horizontally to provide a subtle contrast with the original, irreplaceable, vertical old growth redwood boards.
Credits
Photography by Richard Mandelkorn and D.W. Arthur Associates